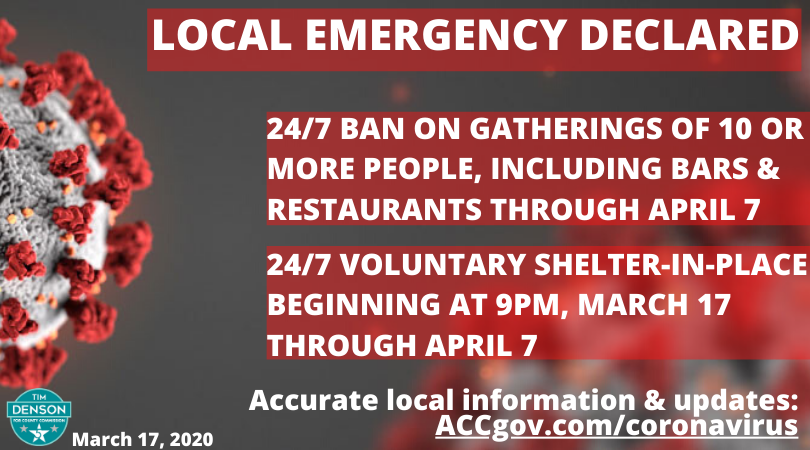 As of March 17, 3 cases of COVID-19 (Coronavirus) have been confirmed in Athens-Clarke County with 146 confirmed cases in the state of Georgia.

Last night, the ACC Mayor & Commission declared a Local Emergency and put in place 2 important measures:

– a 24/7 ban on gatherings of 10 or more people, not including employees, in restaurants, bars, and/or entertainment establishments or in facilities owned by the Unified Government of Athens-Clarke County, Georgia or on public property. This ban is from 5pm today until April 7, unless extended.

– a 24/7 Voluntary Shelter-in-Place from 9pm today through April 7, unless extended. This means that individuals should not loiter, wander, stroll, or play in any public place within the territorial limits of Athens-Clarke County, provided, however, that the provisions of this section shall not apply in the following instances:
When a person is upon an emergency errand;
When a person is traveling to, or returning directly home from, or engaged in their employment;
When a person is attending or traveling directly to or from an activity involving the exercise of First Amendment rights of free speech, freedom of assembly, or free exercise of religion;
When a person is engaged in interstate and intrastate vehicular travel through Athens-Clarke County, Georgia;
When a person is walking or running to or from their residence for recreational or fitness purposes; and
When a person is procuring food or medicine or seeking medical care.
Please abide by the Shelter-in-Place and utilize social distancing. This is important not only to your personal health but to the overall health of our community, including those more susceptible such as the elderly and those with compromised immune systems.
Other important steps being taken:
The Mayor and Commission will be holding a 2nd Emergency Session on March 19 to take further steps to keep our community safe during this COVID-19 crisis. Here are other important actions that are in place:
In order to provide access to clean water for sanitation and hand-washing, Public Utilities will not terminate water service for customers with past due bills for the next 60 days, effectively immediately. Residents who have been disconnected for non-payment will have service restored today.
A moratorium on evictions is in place through April 26
Courts will remain open but on a limited capacity
CCSD, along with community volunteers. are delivering meals, and allowing them to be picked up, for children who would normally be eating at school (volunteers will continue to be needed)
Commissioner Denson is continuing to advocate for these actions to assist our community during this Local Emergency:
Release the remaining $3~million dollars in the Prosperity Package as Coronavirus Relief Funds to help assisting organizations and individuals financially hurt by this crisis
Have the Clarke County Sheriff's office release all individuals being held for non-violent offenses who are not a flight risk
Put together a Coronavirus Relief Package, that could include delyaing or waving of certain fees and taxes among other things, to assist people and businesses weather this crisis
As legally allowed, shut down all non-essential businesses through April 7
Information is updated at noon everyday by the GA Dept of Health at https://dph.georgia.gov/covid-19-daily-status-report. You can see local information at accgov.com/coronavirus.