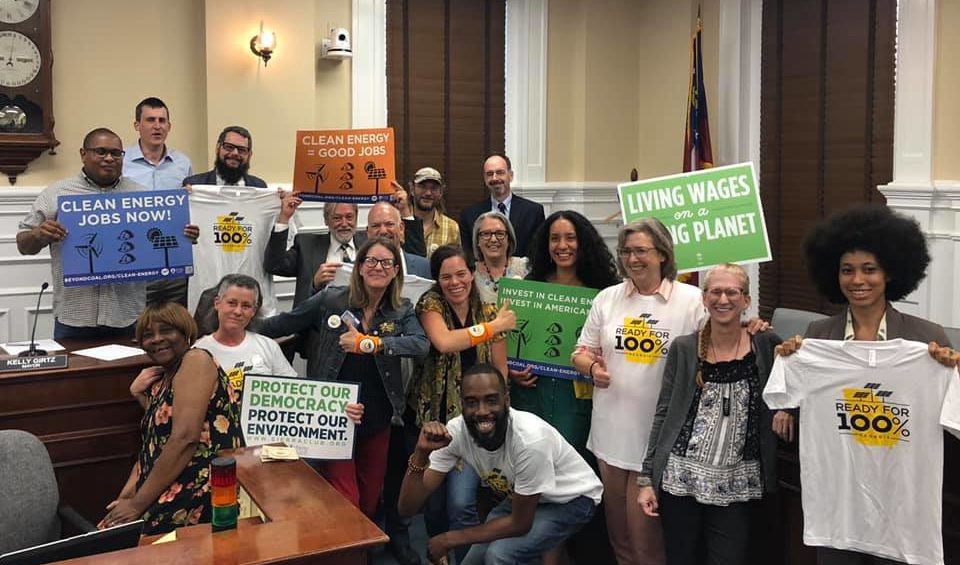 Last night the Athens-Clarke County Commission unanimously voted to adopt a resolution to move 100% of ACC's energy use to clean & renewable energy by 2035! The resolution makes these 5 commitments:
1: The Unified  Government of Athens‐Clarke  County will obtain 100% of its  energy needs from clean and renewable energy sources produced on‐or‐for Unified Government properties by  2035, and it will decrease the use of third‐party renewable energy certificates to not more than 40% of its total energy portfolio by 2050

2: The community of Athens‐Clarke County will obtain 100% of its electricity needs from  clean and renewable sources by 2035, and all other energy needs will be met by 100%  clean and renewable energy sources by 2050

3: These efforts will work in a manner to redress historical inequities in our community   

4: The Unified  Government of Athens‐Clarke  County commits itself to developing  a clean energy action plan within 18 months of the adoption of this resolution

5: The Unified Government of Athens-Clarke County urges the Athens-Clarke County Pension Board and the Athens-Clarke County Deferred Compensation Board to re-evaluate its position about the role fossil fuels play in Athens-Clarke County employees' retirement funds and how they impact the health of ACC retirees' investments, and continue reviewing fossil fuel divestment strategies.
You can read the full resolution that was passed here.
Thank you to the ACC Sustainability Office, staff, and Athens residents for working together to make this resolution a reality. Now, onto the work to make it a reality!