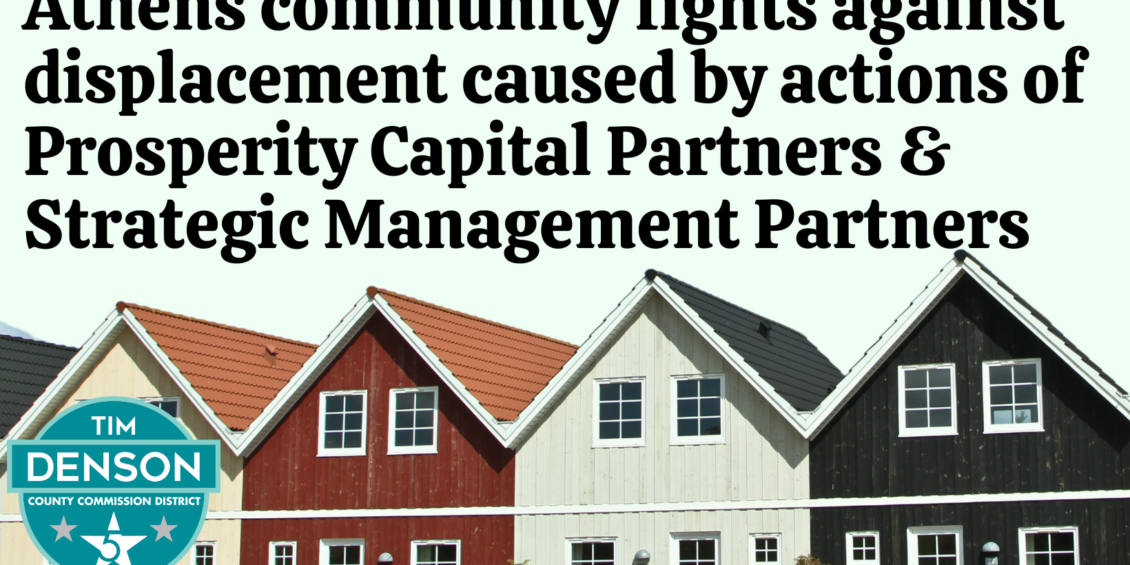 As reported by Athens Politics Nerd, Prosperity Capital Partners, a real estate investment company out of Florida, purchased hundreds of working-class housing units in Athens and has recently displaced many of the tenants due to drastic rent increases and policy changes. Residents from 4 of the affected properties (Lexington Heights, Garnett Ridge, Hidden Pines, and Highland Park) have written a letter to Prosperity Capital Partners & Strategic Management Partners, PCP's management company, with a list of demands to ensure residents retain dignity and fair engagement with their housing situation [read the letter here or watch the press conference below].
Provide new leases to all tenants with reduced rent and to accept Section 8 and other subsidized housing vouchers.
Delay rent increases until all renovations and maintenance necessary for the tenants' health and safety have been addressed.
Cap the amount of future rent increases to a maximum of 10% per year.
Remove the surcharge for online payments and allow other payment options including cash and check.
Provide necessary maintenance and access to all services and amenities including trash pickup.
Provide relocation assistance, such as money for security deposits and the time to find desired housing, to anyone who wants to move.
Commissioner Denson has found through research that Propserity Capital Partners bought an additional 2 housing developments over the last 2 years also; Cascades on the River & the Flats at 235. This brings the total number of units bought by Prosperity Capital Partners, and managed by Strategic Management Partners, to over 575. SMP states these rent increases and policies are going in effect at all properties.
To support residents facing displacement, Commissioner Denson worked with the ACC Manager's Office & Housing & Community Development staff to allocate Community Development Block Grant (CDBG) funds to cover moving expenses for low-income residents being forced to move. This policy passed the Mayor & Commission unanimously at the September 6 voting session. Four recipient organizations (The Ark UMOC, Family Promise, Advantage Behavioral Health, and Acceptance Recovery Center) agreed to use their collective $700,000 CDBG allocations for the first 60 days to exclusively, "serve income‐qualified individuals who have lost or are risk of losing housing because of lease modifications/terminations/non‐renewals implemented after August 1, 2022." After the first 60 days, they will still serve these individuals but also individuals within their original scope of work. ACC Housing & Community Development department is working as fast as possible to get these funds distributed to service providers so that residents can access them. [read details on this policy here]
Last month, Commissioner Denson wrote to Prosperity Capital Partners owners, Pastor Randy Lawrence and Sara Jo Lawrence, along with the operators of Strategic Management Partners and asked them to reconsider these harmful policies that are leading to resident displacement. Commissioner Denson did finally receive a phone call in late August but they refused to change the policies or work with residents. Tim continues to stand and work with the residents and calls upson PCP and SMP to meet with residents and discuss this situation.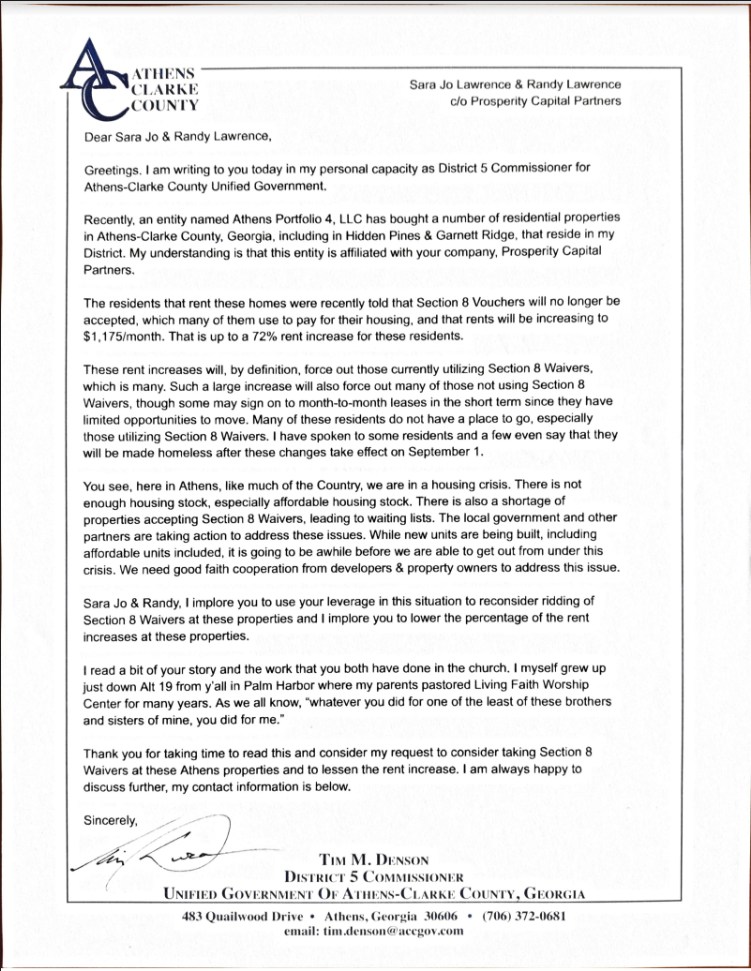 This issue is larger than just these two companies, with many Athens multi-family housing developments being traded as investments all over the country. Tenants are beginning to organize to fight back against this trend. If you are interested in joining those efforts, please contact the Athens Housing Advocacy Team. This issue can only really be solved by the residents being affected working together!
If you are facing displacement or eviction, here are some resources that may assist you:
Legal assistance:
Georgia Legal Services: 1-800-745-5717 – www.glsp.org
Financial Assistance:
Organizing & more resources:
Athens Housing Advocacy Team: https://athenshousingadvocacy.org/