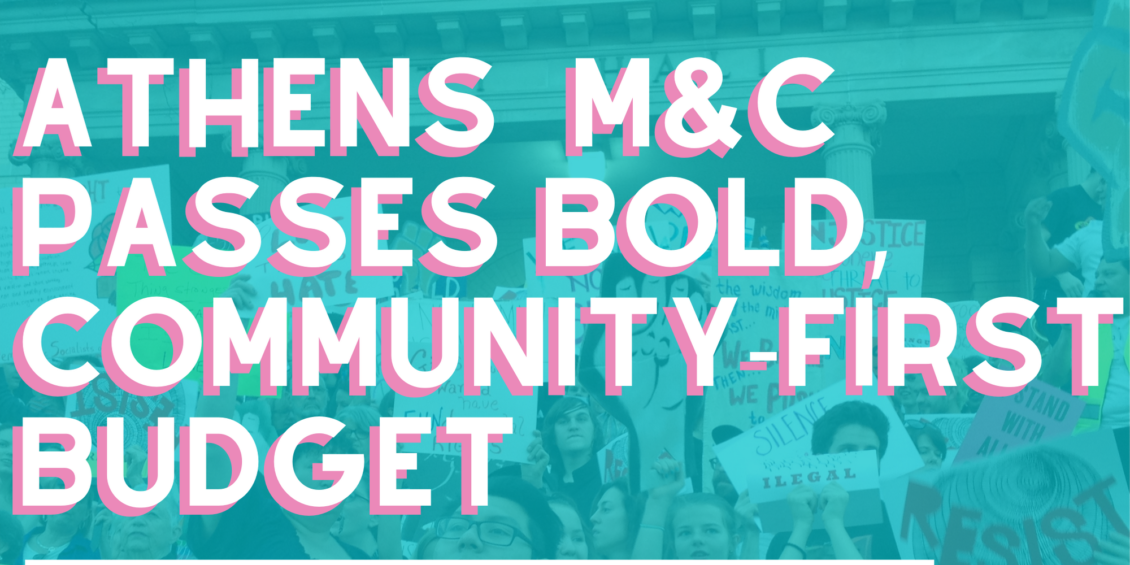 On Tuesday, June 15, the ACC Commission passed a historic, community-focused budget for the 2021-2022 Fiscal Year. While maintaining the reduced millage-rate from last year, the budget includes a new $15/hour minimum wage for County employees, permanent zero-fare public transit, the creation of a new Alternative Crisis Response program, new corridor beautification teams, a half-million dollars for youth programming, and much more!
The FY21-22 budget passed 7-3 (FOR: Davenport, Parker, Link, Denson, Houle, Edwards, Myers – AGAINST: Wright, Thornton, Hamby) after months of work and budget hearings to craft a budget that is fiscally balanced yet responsive to community needs that have been exacerbated by the COVID-19 pandemic. This budget was the fruit of a team effort with Mayor Kelly Girtz, the ACC Commission, Manager Blaine Williams, and the award winning ACC Finance Department.
Here are some budget highlights:
Zero-Fare Public Transit made permanent
Commissioner Denson has been advocating and working towards for years to make Athens Transit zero-fare to assist lower-income Athenians who rely upon it while also making Athens cleaner, safer, and healthier. Athens Transit staff have been able to acquire additional federal dollars through both the ARP and CARES act to help Athens get to zero-fare while also reducing the burden of operational funding on local dollars. This will hopefully be funded in years to come with new TSPLOST funding.
$15 Minimum Wage for all County employees
Commissioners Patrick Davenport, Jesse Houle, Mariah Parker, and Denson prioritized bringing the Fight for $15 to the Athens-Clarke County Unified Government this year so that ACC could be a shining example to the rest of the Athens Metro Area that all people deserve a living wage. Thanks to the years of fighting for a Living Wage from organizations such as the Economic Justice Coalition and leaders like Ray MacNair and Linda Lloyd, this big step has been taken! Also funded is a study to address any wage compression issues that may occur due to this minimum wage increase.
Alternative Crisis Response Teams and expansion of Jerry Nesith Co-Responder units
After the ongoing protests and demands started last year for Athens to "reimagine public safety" the Athens-Clarke County Unified Government have funded a new Alternative Crisis Response program that uses behavioral & physical health experts (similar to CAHOOTS in Eugene, OR) rather than police to respond to mental health crises and homelessness/resource needs.
This new Alternative Crisis Response program will be implemented while Athens also expands the ACCPD uses the funding for 5 officer positions to instead expand the Jerry Nesmith Co-Responder Teams, which teams licensed clinical social workers with ACCPD officers, to a total of 7 teams.
Maintains Reduced Property-Tax Millage Rate
This bold budget has been funded while still maintaining the reduced millage rate of 13.7 mills voted in by the Mayor & Commission in 2020. Along with this, reductions to water fees and multiple business fees have been maintained for this fiscal year, minimizing the financial impact on residents and local businesses.
Commissioner Denson is well aware that, although the Mayor and Commission reduced the millage rate last year, that Clarke County School District is still operating at a maximum millage rate (20 mills) and that property assessments have gone up in many parts of the County. The Mayor & Commission legally have no hand in assessments, which are handled by the independent Board of Assessors. If you believe that your property has been unfairly assessed, you may appeal this assessment to the ACC Board of Assessors.
Support of the Athens Area Homeless Shelter
The Commission included the Athens Area Homeless Shelter as an Independent Agency and funded it at $220,000 in this budget. Independent Agencies are nonprofits that provide an integral service to the County and receive, in a sustained fashion, annual funding from ACC to assist it in providing services. Along with this new funding, the Commission also voted in favor of a Homelessness Resolution that creates a plan for ACC and partners to assist those who are unhoused in Athens.
Youth Programming Funding to Combat Youth Gun Violence
Commissioner Mariah Parker spearheaded including $500,000 to be used for youth programming, including a community garden program for East Athens. With this, Athens can build off of current programs like Grand Slam so that young people in Athens can have opportunities to build up positive personal experiences that keeps them off the streets and away from potentially violent circumstances.
Other exciting additions:
New Community Engagement position for our Public Information Office, increased funding for criminal justice initiatives for our Public Defender Office and District Attorney, annual funding for Juneteenth celebrations, Disparity Study to analyze potential historic economic and social disparities, new Energy Program & Sustainability Coordinator position, and much more.
Soon, the finalized budget will be published. For now you can read the Mayor's Budget document here and the Commission-Defined amendments.