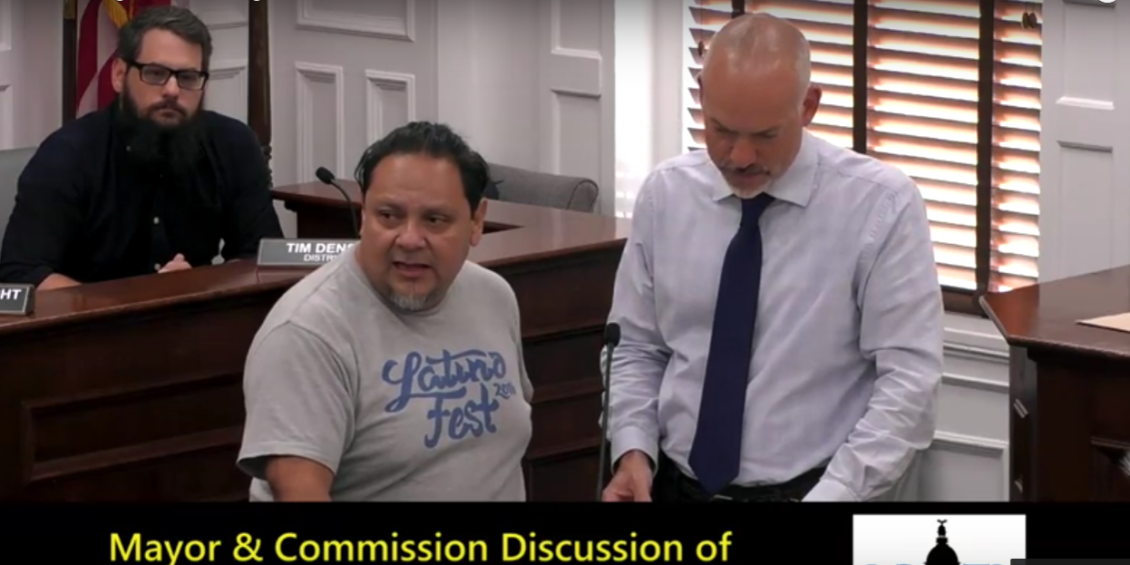 On Tuesday, August 20 the Athens-Clarke County Mayor & Commission unanimously passed a Resolution in Support of Athens Immigrant, Undocumented, and Latinx Communities brought forward by Commissioner Denson. [view the Resolution in English & Espanol at the bottom]
In a powerful moment, Mayor Girtz took turns with community organizer Beto Mendoza, reading the resolution in both English and Spanish. Afterwards, Commissioners personally shared their support, with Commissioner Russell Edwards speaking in English and Spanish. Before exiting the Special Called Session that occurred before the regularly scheduled Agenda Setting Session, residents shared their own stories and testimonies for why this resolution was important to the Athens community.
A Resolution in Support of Athens Immigrant, Undocumented, and Latinx Community

Whereas, Athens-Clarke County, Georgia embraces and celebrates our diversity of cultures, languages, religions, and ethnicities, and the Athens-Clarke County community benefits from the hard work, cultural offerings, and tax dollars of the immigrants who call Athens, Georgia home; and

Whereas, Athens-Clarke County, Georgia appreciates the many cultural, educational, and economic contributions the Latinx community continues to give; and

Whereas, one in ten Georgia residents is an immigrant and more than 375,000 undocumented residents live in Georgia; and

Whereas, white nationalists and xenophobes have been emboldened by some politicians and members of the media, and we recognize that our entire community, not just people of color and immigrants, is harmed by the existence of white supremacy in our community going unchallenged; and

Whereas, our immigrant and undocumented neighbors, especially those of Latinx heritage, face daily fears and threats from individuals and institutions such as ICE and we have witnessed these fears and threats become realities in the tragedies of the El Paso shooting, the family separations and incarceration at the southern border, and the mass arrests in Mississippi; and

Whereas, for the Athens community to be whole, it is necessary that families and loved ones remain together and that all people, including those without documentation, feel welcome and comfortable interacting with local law enforcement, their local government, and all services provided by such; and

Whereas, we unflinchingly defend the human rights of all people, including citizens, noncitizens, and those without documentation, and recognize that we cannot be witness to the violation of constitutional rights given to all people, repeatedly reaffirmed in cases such as Yick Wo v. Hopkins and Plyler v. Doe.

Therefore let it be resolved by the Mayor and Commission of Athens-Clarke County, Georgia that: 

The Athens-Clarke County Unified Government is welcoming to people from all lands and backgrounds and strives to foster a community where individuals and families of all statuses feel safe, are able to prosper, and can breathe free; and

The Athens-Clarke County Unified Government denounces white supremacy and recognizes the role that some government institutions have played in creating it and commits itself to working to reverse the damage that has resulted to black, brown, and all other minority communities.

Spanish Translation:

Una resolución en apoyo de los inmigrantes, los residentes indocumentados y la comunidad latina de Athens

Considerando que el condado de Athens-Clarke, Georgia acoge y celebra nuestra diversidad de culturas, idiomas, religiones y etnias y que la comunidad del condado de Athens-Clarke se beneficia del trabajo duro, las ofertas culturales y las contribuciones impositivas de los inmigrantes que hacen su vida en Athens, Georgia; y

Considerando que el condado de Athens-Clarke, Georgia valora las muchas contribuciones culturales, educacionales y económicas que la comunidad latina sigue dando; y

Considerando que uno de cada diez residentes de Georgia es inmigrante y que más de 375,000 residentes indocumentados viven en Georgia; y

Considerando que los nacionalistas blancos y los xenófobos han sido alentados por algunos políticos y algunos medios de comunicación y que reconocemos que nuestra comunidad entera, no solo la gente de color y los inmigrantes, se daña cuando la existencia de la supremacía blanca en nuestra comunidad no se resiste; y

Considerando que nuestros vecinos inmigrantes e indocumentados, especialmente los de ascendencia latina, enfrentan el miedo y las amenazas diarios de individuos y de las instituciones como ICE y que hemos visto esos miedos y amenazas realizados en las tragedias del tiroteo en El Paso, las separaciones de familias y los encarcelamientos en la frontera del sur y los arrestos en masa en Mississippi; y

Considerando que para lograr la integridad de la comunidad de Athens es necesario que las familias y las personas queridas se queden juntos y que todas las personas, inclusive los que no tienen documentación, se sientan acogidas y cómodas al interactuar con los cuerpos de seguridad locales, su gobierno local y todos los servicios provistos por éstos; y

Considerando que defendemos implacablemente los derechos humanos de todas las personas, incluyendo los ciudadanos, los no ciudadanos y los que no tienen documentación, y que reconocemos que no podemos aceptar la violación de los derechos constitucionales dados a todas las personas, reafirmados repetidamente en casos como Yick Wo v. Hopkins y Plyler v. Doe.

En consecuencia, el Alcalde y la Comisión del condado de Athens-Clarke Georgia proclama que:

El Gobierno Unificado del Condado de Athens-Clarke acoge a las personas de todas las tierras y todos los orígenes y se esfuerza por fomentar una comunidad en la que los individuos y las familias de todos los estatus se sientan cómodos, sean capaces de prosperar y puedan respirar libres; y

El Gobierno Unificado del Condado de Athens-Clarke denuncia la supremacía blanca y reconoce el papel que algunas instituciones gubernamentales han desempeñado en crearla y se compromete a trabajar para enmendar el daño hecho a las comunidades negra, latina y de todas las demás minorías.