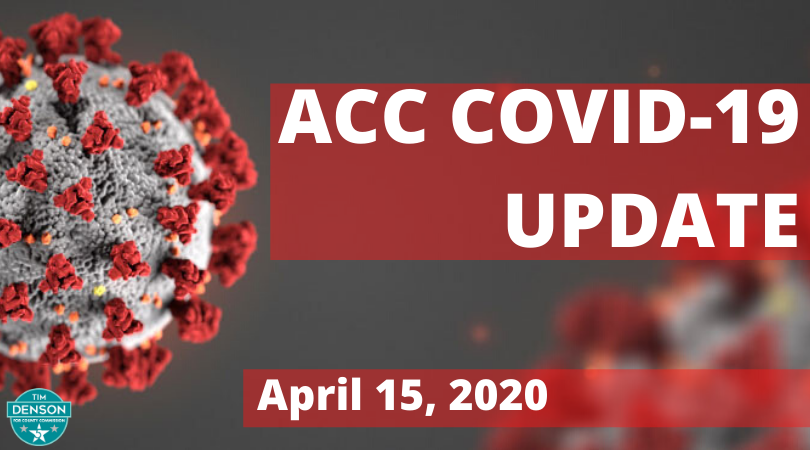 ACCGOV pursuing collaboration with UGA, GEMA, and GDH to have a mobile testing site to service underserved areas of Athens
ACC Mayor & Commission received an update from Northeast Georgia Health District interim Director Dr. Stephen Goggans on the COVID-19 pandemic.
Georgia Department of Health releases Long-Term Care Facility COVID-19 Report; Grandview facility in Athens has a reported 9 deaths
Highlights from April 11 COVID-19 Medical Provider Conference Call
Over the last couple weeks, the Mayor and Commission has been working with staff to figure out ways to increase testing in Athens, especially in underserved parts of the County. County Manager Blaine Williams has now begun conversations with the University of Georgia, GEMA (Georgia Emergency Management Agency), and the Department of Health to have the UGA mobile clinic begin to offer COVID-19 testing in lower-income part of the County and in other underserved areas of Athens-Clarke County. It is hoped that this collaboration will come to fruition in the coming weeks.
"Under the Mayor & Commission's direction, we submitted a request to GEMA to partner with the University of Georgia on a mobile unit to enhance access to underserved neighborhoods…There does seem to be an opportunity there with the University. What they indicated was, that if we are able to assist with acquiring personal protective equipment and testing kits, that that would really enhance their ability to do good work in underserved neighborhoods."

Blaine Williams, ACC County Manager

---
At the April 14 Mayor & Commission Work Session, Dr. Stephen Goggans gave a presentation to the Commission and answered questions about the COVID-19 situation in Northeast Georgia and about the testing/reporting issues that have plagued the area and state.
An exciting development is that testing will finally be expanded in Georgia beyond high-risk individuals. "Testing has been limited by a number of factors," said Dr. Goggans. "I'm very happy to say that those are beginning to ease up and as a result we have been able to loosen the criteria for testing. [We] will now call for testing, where it is available, for testing for people who have symptoms but who are not part of a high risk group."
Grandview Facility. On the reports of under-reported confirmed coronavirus cases and deaths at the Pruitthealth Grandview assisted living home, Dr. Goggans said this, "Some of that does have to do with the lag of reporting of cases and deaths in general. Occasionally, there will be attribution problems with folks in long-term care facilities because reports should reflect where the facility is but it does not always. The Department's plan is to announce facility level cases and deaths."
That report has been released [access it here] and states that the PruittHealth Grandview facility has had 16 confirmed cases and 9 deaths (the report also lists 1 confirmed case at PruittHealth's Athens Heritage facility; 1 confirmed case at PruittHealth's The Oaks facility; and 2 confirmed cases at University Nursing & Rehab facility…no deaths have been reported at these facilities) . PruittHealth has made their own data portal on their website for all of their facilities, yet they only report 7 confirmed cases at the Grandview facility (they do not have deaths listed). There are a number of discrepancies for confirmed cases at facilities between PruittHealth's data and the report released by the Georgia Department of Health.
You can watch all of Dr. Goggan's presentation and questioning below:
Emergency Management Coordinator J.W. Thaxton made available their notes from the weekly COVID-19 Medical Provider Conference Call. These notes help to lay out an understanding of the COVID-19 situation in Athens and the medical response:
Piedmont ARMC – Michael Burnett:
· Busiest week seen COVID-19 related
· ~38 in facility throughout week- fluctuates with discharges and admissions frequently everyday
· Very close to moving patients to overflow areas a few days this week but feels like the modeling may indicate good signs we've reached our surge
· More patients coming in from surrounding counties
· Supply and equipment – in good shape
· National Guard on-site helping in ED
· Majority of patients in ICU are everyday patients – not COVID-19 related
· In-house testing supply is limited – a lot kits being redirected to the hot spots
· Brought up concerns with Abbott testing validity – producing many false negatives in Columbus hospital
· Still need handmade cloth facemasks
St. Mary's- Montez Carter:
· COVID-19 patients not as high; ~ 4 positives and ~13 under investigations
· Testing capability will hopefully improve next week; a week later than they expected
· Receiving new patients but also discharging so numbers are fluid
· Supplies have been short at times but SNS supplies and parent company have been meeting demand
· A lot of surge planning and training this past week
· 40% down from normal census
· Still need handmade cloth facemasks
Dept. of Public Health – Dr. Goggans:
· Hopes we are on backside of the surge but concerned with increased numbers in some nursing homes, referenced University of Washington Model has surge late April for Georgia
· Universal testing in several long-term facilities across the state have found facilities with 50% positives with many asymptomatic; not sure what their clinical picture will look like yet and these situations could cause additional surge if delayed symptom onset is the clinical course
· Uptick in cases in rural areas could also contribute to surge
· DPH data is behind because of the way results are reported and entered
· Testing is improving as far as overall access
· Criteria loosening to capture more people as supply has increased
· Community mitigation is focus
· Athens area doing well compared to other parts of state
· Discussed how allocation of positives and deaths by county may change as DPH confirms/investigates. The case should be reported by county of residence. Therefore, a patient in a long-term care facility in Clarke County but originally from Barrow County would count towards Clarke. Often, as DPH investigates they find a scenario such as a patients legal address being a prior address and therefore have to make changes; that is why numbers fluctuate.
Rep. Houston Gaines:
· Requested information on better data for community
· Michael Burnett and Montez Carter discussed the challenges on various data points; expressed concerns with the way the general public would interrupt the data even if it was possible
Athens Neighborhood Health Clinic – Dr. Gowdie:
· Saw about 100 patients
· Tested 4 patients this week for a total of about 12; no positives so far
· PPE is still a problem
· About 15 test kits; not able to receive any more right now
Mercy Clinic – Michele Johnson:
· Tested 12 patients – no positives so far
· Unable to get PPE from State yet
· Opened evening clinics and accepting new patients again
Athens Orthopedic Clinic:
· Essential services only; 1/3 of normal volume