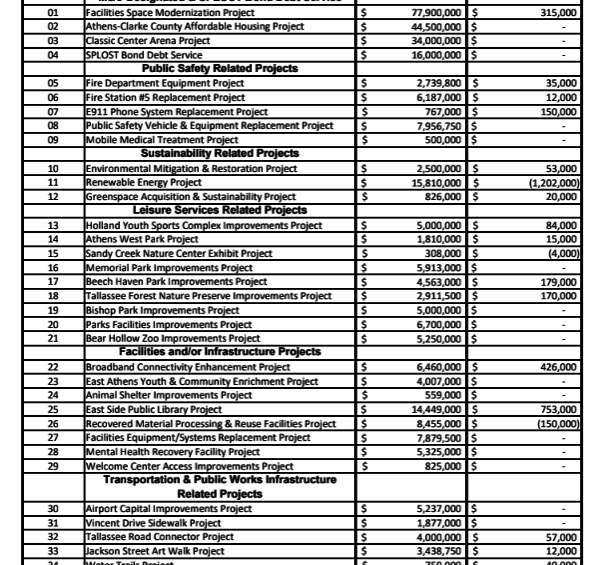 The Mayor and Commission passed the finalized SPLOST on July 18 and the Final Project Statements are now available. It is important to note that every one of these projects will come back before the Commission (and the to-be-created SPLOST 2020 Oversight Committee) before being implemented.
Now that the Commission has finalized the list, it is up to the voters of Athens-Clarke County to decide if the SPLOST referendum passes in November. You can download or view the entire document at the bottom of this post.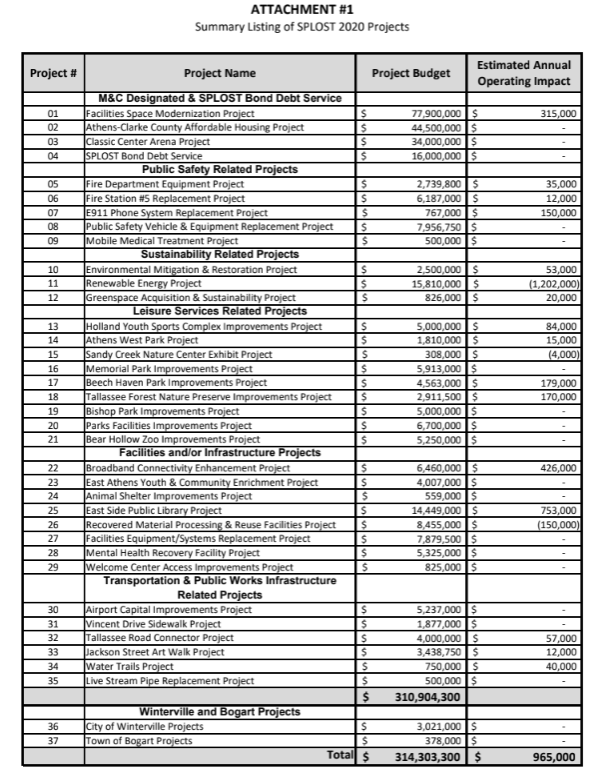 Highlights & Projects to affect District 5:
Project # 02: Athens-Clarke County Affordable Housing Project ($44,500,000):
This project "will provide funding support for a range of affordable, public, or workforce housing sub-project options in Athens-Clarke County " and has the most potential of any SPLOST project to have radical, positive change in our community. The ability to have nearly $45 million dollars to create quality, affordable housing for public & workforce housing is an amazing resource as we move forward tackling this pressing issue. Importantly, Commissioner Mariah Parker and Commissioner Denson inserted language that states, "To the extent allowed by law, measures to limit the displacement of existing residents may be considered by the Mayor and Commission when considering available options."
Project # 32: Tallassee Road Connector Project ($4,000,000): Commissioner Denson prioritized getting this project back on the list after hearing how many constituents prioritized it at the District 5 SPLOST Townhall. The Project Description states, "this project will provide funding for capital improvements for a shared use-path or sidewalk connector to help connect neighborhoods, parks, and/or people along Tallassee Road in accordance with the Athens in Motion Plan and the Greenway Network Plan." This project could work very well in tandem with the soon-to-be-built Tallassee Road bridge.
Project # 31: Vincent Drive Sidewalk Project ($1,877,000): Another corridor needing pedestrian access. This project will "provide funding for constructing a sidewalk and all related improvements on the approximate 1.4 mile section of Vincent Drive between Jefferson River Road and Newton Bridge Road." This will finally allow residents of the Vincent Drive area to safely access the Holland Youth Sports Complex by foot.
Project # 13: Holland Youth Sports Complex Improvements Project ($5,000,000): Speaking of the Holland Youth Sports Complex, this project will "provide funding to renovate, expand, and improve Holland Youth Sports Complex and the facilities within the complex."
Project # 18: Tallassee Forest Nature Preserve Improvements Project ($2,911,500): A long awaited project, the Tallassee Forest Nature Preserve will finally get underway if the SPLOST referendum passes. Project #18 will, "provide funding to include the design, construction, and/or installation of improvements at the Tallassee Forest that will provide sustainable public access and benefits, consistent with the property's environmental quality and protected status."
Project #19: Bishop Park Improvements Project ($5,000,000): Another project that Commissioner Denson was able to work with his fellow Commissioners to be included on the list, and increase the funding to, was for improvements to Bishop Park. This project will "provide funding for the most critical improvement needs as identified in the Bishop Park Master Plan."
Project # 28: Mental Health Recovery Facility Project ($5,325,000): This project will "provide funding for…mental health recovery facility project…to provide a residential style facility for individuals with mental health and potentially co-occurring addictive."
Project # 25: East Side Public Library Project ($14,449,000): This project will provide funding for "extending library services to county residents on the east side of Athens-Clarke County. This annex facility would be a full service library consistent with the level of resources and services provided at other similarly situated public libraries in the county."
Project # 22: Broadband Connectivity Enhancement Project ($6,460,000): There are still parts of Athens-Clarke County that do not have access to reliable high-speed internet. This project will "provide funding to assist with the process of implementing and providing for the enhancement of broadband connectivity throughout Athens-Clarke County."
Project # 23: East Athens Youth & Community Enrichment Project ($4,007,000): "This project will provide funding for land acquisition, design, construction, and/or equipping of facilities for youth development and family educational programs in eastern Athens-Clarke County and/or renovations, improvements, additions to, and equipping of existing facilities."
Living Wages: Commissioner Denson helped to acquire a guarantee within the Statement of Public Purpose that any jobs directly created by Project # 03: Classic Center Arena Project would pay a living wage as dictated, and updated, by the MIT Living Wage Calculator.
Childcare Centers: Commissioner Denson also worked to include language within Project # 01: Facilities Space Modernization Project & Project # 03: Classic Center Arena Project to make way for quality affordable childcare centers to be created/provided within these buildings. This is a creative way for us to address the great shortage in childcare spots in Athens, GA.
You can view the Final Project Statements here or download them below.