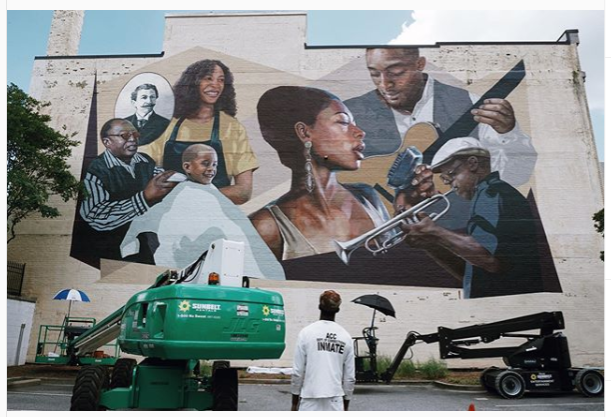 On August 21, the Athens community met in a small non-descript parking lot to dedicate what lies before it, a wonderful work of art and piece of history; the Hot Corner Mural. As Broderick Flannigan, local artist who worked alongside Elio Mercardo to create this piece, stated, "To have this accompanying mural to add to the legacy of Hot Corner will serve as a visual reminder of what was and still is a major part of Black history in Athens."  
The story that brought the Hot Corner mural to the corner of Lumpkin & Washington instead of it's original location on the side of the Morton Theatre is one that is just as winding as a drive through downtown Athens' one-way streets…but ultimately, it might end up being kismet.
"The Hot Corner mural is now done on the side of the Costa Building and it looks amazing! When I look at it, it makes me wish that underneath it we had some wonderful green space such as a park area so you could sit there and appreciate it and bring people together rather than a parking lot, which, as I see it, is not the best use of that space. I hope we can begin brainstorming on how to make that happen." – Commissioner Tim Denson, July 2 Mayor & Commission Voting Session
At the July voting session, Commissioner Tim Denson put forward a call for Athens-Clarke County to figure out a way to turn the parking lot underneath the mural into a downtown park. Quickly Commissioner Denson began working with County staff, the Athens Downtown Development Authority, Commissioner Mike Hamby, and Commissioner Jerry Nesmith to bring about this vision. Excitingly, the Mayor & Commission will be presented preliminary designs for a park in this spot at the September Work Session on September 10 at 5:30pm.
Thanks to the Athens Cultural Affairs Commission, Elio Mercardo, and Broderick Flannigan for creating this wonderful art and already using it to inspire the residents of Athens! (photo by Elio Mercardo via Instagram)