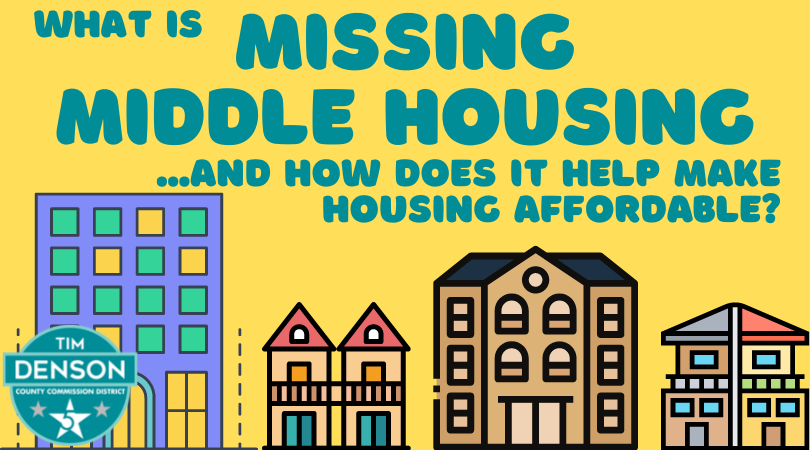 Athens, Georgia is in a housing crisis, like much of Georgia and the United States. The factors that led us here are complex and varied; from decreased housing production after the Great Recession, to the "Air BnB Effect", to investors buying up housing, to general NIMBYism, to zoning and planning code that encourages housing that is more expensive, less dense, and less designed for working class Athenians. So, what can be done about it?
The Mayor and members of the Commission have been working on this for the last few years but, just as this crisis took years to materialize, it is not something that can be solved quickly or with "one quick trick". There are two clear needs that must be addressed to get us out of this housing crisis: 1.) density is key as we must produce more housing than we are producing now (Athens is projected to become home to an additional 26,425 residents by 2040) and 2.) we must ensure that a larger percentage of the housing being produced is "affordable".
Here are a number of policies already in the works that Commissioner Tim Denson has been working on with the Mayor, members of the Commission, and ACC Staff:
Missing Middle Housing are pedestrian/transit-centric house-sized residential buildings with multiple units that are inbetween, or in the "middle" of, single-family homes and large downtown apartment complexes, such as triplex, quadplexes, and cottage courts. This kind of housing was produced commonly decades ago but this type of housing is "missing" from current developments. This kind of housing is normally more affordable and centrally located. This kind of development is also more dense and produces more housing per lot, something important in the smallest by area county in Georgia. In 2021, the Mayor and Commission funded a Missing Middle scan to find out where this type of housing could be developed and what zoning policies need to change to make it so. This report has been produced and the Commission will vote on ordinance recommendations based upon it in 2023.
Inclussionary Housing, or inclussionary zoning, refers to municipal or county planning ordinances that require/incentivize a given share of new construction to be affordable by people with low to moderate incomes. In 2021, Mayor Kelly Girtz created the Inclussionary Housing Working Group and tasked them with creating policies and practices that will encourage mixed-income development across zones allowing for single family and multi-family affordable housing units. The Task Force created a multifamily (i.e. rental) inclussionary housing ordinance and it was passed unanimously by the Mayor and Commission. The first development proposal utilizing this proposal is expected to come before the Commission by the end of the year. The Task Force plans on creating a single-family (i.e. home ownership) inclussionary ordinance next year.
Accessory Dwelling Units, (ADU) are smaller, independent residential dwellings located on the same lot as a stand-alone single-family home. As the American Planning Association puts it, ADUs "have the potential to increase housing affordability (both for homeowners and tenants), create a wider range of housing options within the community, enable seniors to stay near family as they age, and facilitate better use of the existing housing fabric in established neighborhoods." Technically, ADUs are not allowed in most areas of Athens. The Inclussionary Housing Task Force is working on a two-phased approach to allow ADUs in Athens and then, in the second phase, to code them in a way that encourages them to be utilized for affordable housing.
Short Term Rental Regulation is the limiting and/or regulation of dwelling units rented out for up to 30 days, such as Air BnB or VRBO. As of September of 2022, there were more than 938 unique housing units listed as a short term rental online in Athens-Clarke County. A number of cities and counties in Georgia have takens steps to regulate Short Term Rentals and Mayor Girtz assigned this issue to the Government Operations Committee, which Commissioner Denson chairs. Commissioner Denson is hopeful that deliberation will end by the end of the year and that they will send recommendations to the full Mayor & Commission to be voted upon.
North Downtown Athens Redevelopment will see a tripling of the total number of housing units in this area and a doubling of the number of affordable housing units. This development will not result in any long term displacement. Follow this development here.
American Rescue Plan Act affordable housing – Athens-Clarke County is currently soliciting for proposals to utilize up to $5.27 million in State and Local Fiscal Recovery Funds from the American Rescue Plan Act to create and preserve affordable housing the community. You can read more about the propososal process here and you can fill out the public input survey here.
In the future:
Future Land Use Map and Planning & Zoning Comprehensive Plan Revisions that encourage more dense development and missing middle housing
Commission embracing more dense residential developments
Rethinking parking minimums
Lobbying the state legislature to allow local government to ban income discrimination when it comes to housing
---
Resources and Reports to help shed light on our housing crises and possible solutions: