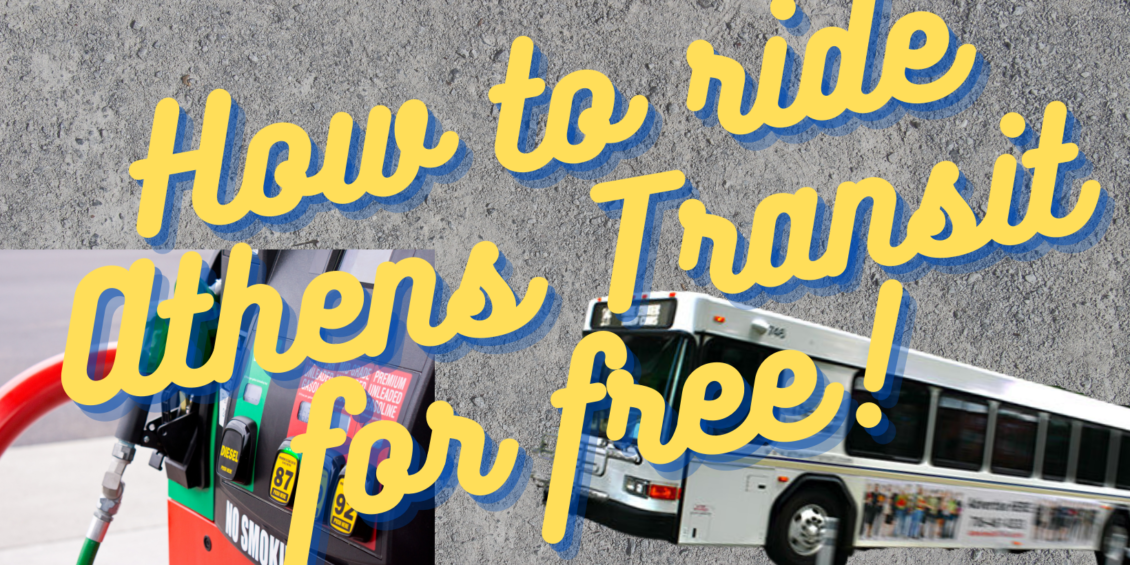 Gas prices are insane right now and are probably going to stay that way for awhile. There is no better time to try out riding Athens Transit which is now FARE-FREE! That is a HUGE savings! Unfortunately Athens Transit does not reach everywhere and work for everyone (yet!) but it very worthwhile to see if it will work for you and to give it a try. Even if you just use Athens Transit to replace one trip a week that will have a positive impact on the environment, our infrastructure, and your pocketbook!
Here is how to prepare for your FARE-FREE trip on Athens Transit:
Check the service map to see when & where a bus comes near you. Download the myStop app (Android or iPhone), check Google maps (inaccurately shows fare prices still), or view routes/times manually at https://www.accgov.com/6138/Routes-by-Number
Find your bus stop and know when the bus will be there and estimate how long it will take you to walk to your stop.
Treat yo self by grabbing a book, a knitting project, or load up a podcast or music to bring with you. One of the nicest things about public transit is that you don't have to drive and can use the trip for a little "me time".
Head to your bus stop so that you get there a few minutes before the bus is supposed to arrive. It is possible the bus can arrive a couple minutes early or late. Stand safely close to the bus stop signage & keep an eye out for the bus.
When the bus approaches, give a polite wave to ensure the driver sees you. Once the bus has come to a complete stop, enter through the front or rear doors. Find a seat and enjoy the ride.
While riding, look out the windows a bit, notice parts of your commute you never have before. Give a kind acknowledgement to your fellow riders. Just take note of how cool it is to have your commute be a low-anxiety, community experience.
When you are approaching your destination pull down the metal cable running along the sides of the bus. You will hear the announcement, "Stop requested" and the driver will know to stop at the next stop.
If you have a question or are confused, feel free to approach the driver and ask, they are happy to help.
Once the bus comes to a complete stop, stand up to exit the bus. Before getting off, yell a friendly "Thank you!" to the driver.
Here are some other helpful tips for getting around Athens via public transit:
Athens Transit is family friendly, kids love the bus!
Bus service on Sat/Sun ends at 6:45 BUT you can use the Uber app for a FREE ride to get home btw the hours of 6:45-11pm
North Athens area has on-demand service with Uber during regular service time. Use the app to defend or call (706) 613-3434. Learn more by clicking here.
All buses have bike racks on the front of the bus. They are easy to use, here is how: https://www.accgov.com/2105/Bus-N-Bike
If you have a mobility impairment making it difficult to get to a bus stop, you can use The Lift, a curb-to-curb transit service offered by Athens Transit that will come to your door! Click here to learn more about The Lift service.