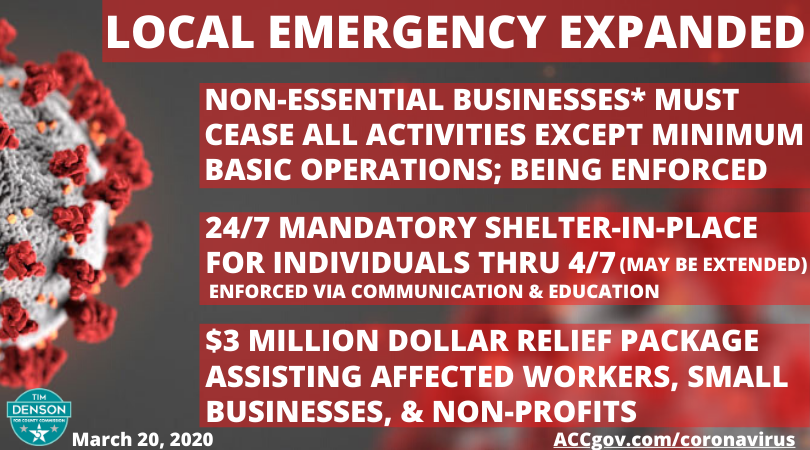 The Mayor and Commission unanimously approved an ordinance with a second declaration of a local state of emergency including a mandatory shelter-in-place and closing of non-essential businesses at their Special Called Session on Thursday, March 19.
The ordinance is designed to ensure that the maximum number of people self-isolate in their places of residence to the maximum extent feasible, while enabling essential services to continue, in order to slow the spread of coronavirus disease 2019 (COVID-19) to the maximum extent possible. This is being done based on evidence and expert opinion showing these steps are necessary to ensure the maximum health and safety of our community.
Until April 7, 2020, unless extended:
24/7 mandatory shelter-in-place
– residents are required to shelter-in-place 24/7…but there are important exceptions so that people can still get food &other essentials along with being able to check on loved ones, perform essential work, &enjoy exercise and nature (see exceptions here). This requirement will be enforced "through information delivery and education of individuals regarding the imminent threat to public health posed by COVID-19" and not through punitive means;
Non-essential businesses must cease all activities except minimum basic operations
– businesses, except essential businesses and those operating and maintaining essential infrastructure, must cease all activities except minimum basic operations (what does "minimum basic operations" mean?), Any violations of this requirement by covered businesses "shall be considered ordinance violations subject to the general penalty provisions outlined in Section 1-1-5 of the Official Code of Athens-Clarke County"(click here to see what are considered "Essential Businesses");

"Social distancing" is required
– "social distancing" is required to the maximum extent possible when outdoors or using shared spaces, which includes maintaining a six-foot distance from others, washing hands with soap and water for at least 20 seconds as frequently as possible or using hand sanitizer, covering coughs and sneezes, regularly cleaning high-touch surfaces, and not shaking hands;
$3 million dollar relief package
-The Mayor & Commission also passed an amendment written by Commissioner Denson to dedicate at least $3 million dollars to assist county partners with providing emergency assistance to residents of Athens-Clarke County who are employees and hourly wage earners of businesses operating within the boundaries of Athens-Clarke County whose incomes are adversely impacted, to support small business continuity, and to provide assistance to non-profit community partners who are providing essential services with the response to the COVID-19 pandemic. Options for relief rollout will be presented on March 27. More relief policies will follow.
Also:
all public and private gatherings outside of a household or living unit, except for limited purposes are prohibited;
travel, except essential travel and essential activities, is prohibited;
the Greenway, Firefly Trail, and linear park trails are remaining open for residents to enjoy as long as social distancing is utilized;
Athens Transit is now zero-fare and running service level similar to summer service. All riders are to enter and exit via the back door only and not approach the driver;
Hand-washing stations have been strategically been placed throughout the community
All places of worship are asked to limit all church services and programs to online formats only.
Here is a Frequently Asked Questions page on the Local Emergency Declaration (https://www.accgov.com/9223/Frequently-Asked-Questions) – additional questions can be directed to coronavirus@accgov.com or to Commissioner Denson at tim.denson@accgov.com or 706-372-0681
You can read the entire ordinance here (note: the passed ordinance is very different than the originally posted proposed ordinance)