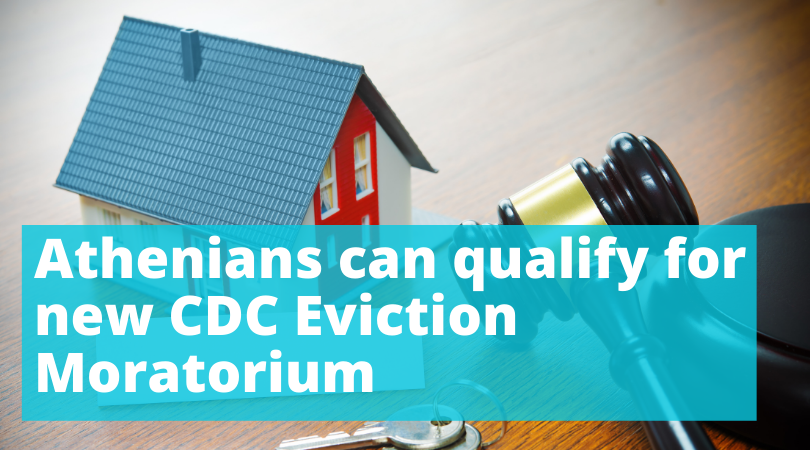 The new CDC Eviction Moratorium applies to Athens-Clarke County since Athens has a HIGH Covid-19 transmission rate
On August 3, the CDC issued a new order temporarily halting evictions in counties with heightened levels of community transmission in order to respond to recent, unexpected developments in the trajectory of the COVID-19 pandemic, including the rise of the Delta variant. It is intended to target specific areas of the country where cases are rapidly increasing, which likely would be exacerbated by mass evictions. This new order is in effect for any County that the CDC has identified as having either "substantial" or "high" levels of transmission of COVID-19. This order is in effect in Athens-Clarke County, Georgia as Athens-Clarke County presently has a HIGH transmission level (the order is also in effect for all counties adjacent to Clarke County since they also have HIGH transmission rates).
For Athens-Clarke County residents to qualify:
For residents potentially facing eviction to qualify you must fill out this AFFIDAVIT, print it and submit it to your landlord. It is also recommended that you print and keep a copy for your own records and also print and submit a copy to the Magistrate Court if there are any court proceedings or filings for eviction or dispossessory filed against you.
This eviction moratorium can apply at nearly any point before you are actually evicted (even if the court has started the eviction process but you have not formally been evicted).
If you previously filed the CDC eviction moratorium affidavit with your landlord and Magistrate Court, you may not have to file this new one. If dispossessory (eviction) proceedings have already began against you in the courts though, it is recommended that you file the new affidavit.
To qualify, you must meet the following criteria and sign the affidavit:
1.) You must meet this income criteria:
2.) Sign an affidavit declaring the following are true:
My income level qualifies for the reasons explained above.
I live in a U.S. county experiencing substantial or high rates of community transmission levels of SARS-CoV-2 (Athens-Clarke County is at a HIGH rate)
I have done my best to make timely partial payments that are as close as possible to the full payment and to get government assistance in making my rent or housing payments.
If I were evicted, I have no other available housing options, so I would:

Probably become homeless, or
Have to move to a homeless shelter, or
Have to move in with others who live in close quarters.
When does the temporary CDC Eviction Moratorium end?
This order is set to expire on October 3, 2021; but is subject to further extension, modification, or rescission. Also, if any county has their Covid-19 transmission level drop below "substantial" for 14 days in a row, the order will no longer be applicable in that county.
If you need assistance navigating this process, please contact Georgia Legal Services (706-227-5362) for help. If you need assistance with paying rent or utilities, please call 211.
For a longer term solution, Commissioner Tim Denson is working with ACCgov, the Clarke County Magistrate Court, and service providers to get an eviction avoidance program (Project Reset) in place for Athens residents before this new temporary moratorium ends.