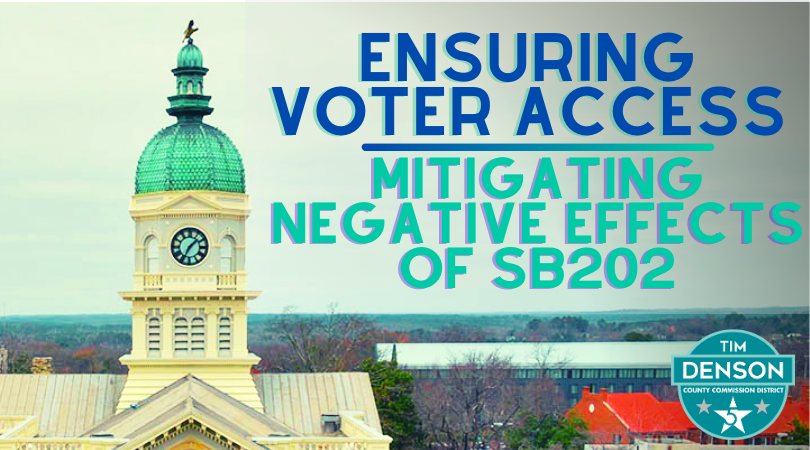 The Athens-Clarke County Government must do everything it can to protect residents ability to vote. That is why Commissioner Denson and Commissioner Melissa Link are presenting a "RESOLUTION ENSURING VOTER ACCESS AND EMPOWERMENT AND MITIGATING NEGATIVE IMPACT ON ATHENS-CLARKE COUNTY RESIDENTS OF THE VOTING RESTRICTIONS IMPOSED BY SENATE BILL 202. [click to read]" This resolution will be voted on at the May 4 voting meeting.
"With this resolution, we are pledging support and resources to our staff and ACC Board of Elections as they work to ensure that every Athenian who wishes to vote has easy access to the ballot," said Commissioner Denson. "These new state laws do create new hurdles to voting. But I look forward to working with the Mayor, Commission, staff, and the BOE to help people over those hurdles."
The Ensuring Voter Access resolution authorizes the creation of a plan of action to mitigate the impact on Athens residents of the voting restrictions imposed by Senate Bill 202. This will include a voter information campaign helping Athens residents to register to vote or update their registration, request an absentee ballot, obtain necessary identification, and understand changes made by SB 202. Similar steps have been taken in Atlanta, Savannah, and other localities in Georgia.
Background on SB 202:
On March 25, Governor Brian Kemp signed SB 202 into law implementing a myriad of policies making it harder for people to vote in Georgia. Governor Kemp, along with State Rep. Houston Gaines, State Rep. Marcus Wiedower, State Sen. Bill Cowsert, and State Sen. Frank Ginn all decided not to protect their constituents' right to vote and supported this legislation. These officials, all Republican, chose to prioritize the conspiracies created by former President Donald Trump, Qanon, and those seeking to attack our Nation's capital, and make it harder for you, your family, and your neighbors to cast a ballot.
This bill is unabashedly full of policies to make it more difficult for Athenians and Georgians to vote. SB 202 also creates more opportunities for valid votes to be thrown out. This bill restricts the number of early voting days, makes it more difficult to cast an absentee ballot, and limits a registered voter's ability to cast a provisional ballot.
SB 202 also makes it more difficult for election officials to facilitate elections. Many of the policies included in SB 202 are expensive and create more unfunded mandates on already strapped local governments. Athens-Clarke County allocated hundreds of thousands of local dollars in 2020 to the Board of Elections. This was to pay for underfunding by the state of Georgia in their rollout of new voting technology. Unfunded mandates in SB 202 will only increase the local burden.
This new law also shifts certain powers away from election officials to elected officials instead. This creates a number of conflicts of interest. This opens the door for corruption and retaliation from elected officials who are unsuccessful in their reelections.
Let's be clear, this bill is just trying to repackage voter suppression tactics as "solutions" to problems that never existed.