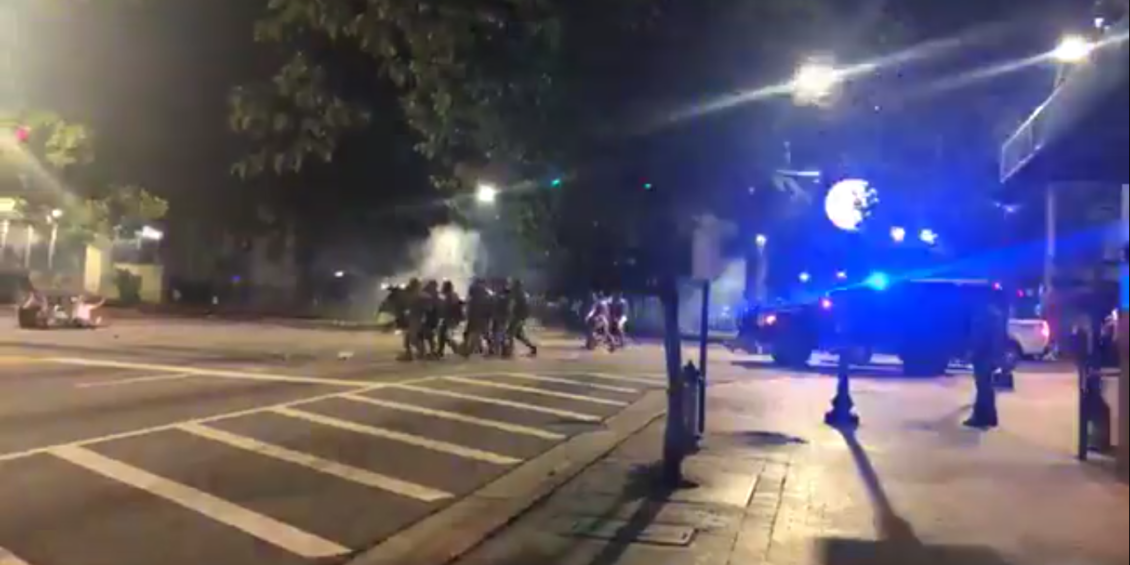 Update: June 4 – Since writing this the Commission has learned a few important new details that were not made clear initially. The use of force was initiated by ACC Police. This was authorized by Chief Cleveland Spruill. Though initially stated they had not been used, it has now been made clear that bean bag rounds were used by ACCPD. You can watch the June 4 Community Conversation with Mayor Girtz, Chief Spruill, Manager Williams, and Assistant Manager Lonon in which some of this is discussed.
Early this morning, just after midnight, peaceful protesters at the intersection of Broad Street and College Avenue were forcefully removed by police after having multiple rounds of tear gas & bean bag rounds fired upon them from the Georgia National Guard and ACC police. [link to Joshua Jones video of the action] After hearing that troops were moving into position, I headed downtown to witness the situation and to attempt to have protesters safely leave. Just as I arrived the tear gas shots went off, the tear gas moved swiftly throughout downtown and quickly caught me. As I arrived to the scene I witnessed folks running out of the gas cloud, crying, coughing, and vomiting from the gas.

Earlier in the day, a massive, peaceful march of over 2,000 people took the streets of downtown Athens. People stood in solidarity demanding police reforms in response to the killing of George Floyd and so many other black people due to excessive force by law enforcement. As this march was ending, a handful of armed instigators did arrive from out of town and unsuccessfully tried to escalate the situation. During this time, the National Guard moved into downtown Athens and an emergency curfew was put in place. These individuals supposedly vacated the area by 10:30 but were potentially lingering in the area.
When the National Guard and police moved in, they moved in on the remaining unarmed, peaceful protesters. No violence or damage had occurred. If one watches the many videos online, you will see that nobody fought back against the cops. A handful of protesters sat in the streets until the heavily armored police officers, backed by armored vehicles, approached them and arrested them; they did not resist. Many individuals frantically ran away from the scene. Some were allowed to leave, others were cornered into the police line and arrested also.

To advance economic and racial justice in our community, I have taken part in civil disobedience in the past and been arrested for it. None of those times was I met with tear gas, national guard troops, or officers pointing rifles. In those experiences, we made it obvious that we were non-violent and not a threat. I would argue that the protesters in Athens did the same as they raised their hands in the air saying, "Hands up, don't shoot" and how many sat in the street when officers moved in and did not resist arrest.

At some point, city officials and law enforcement likely would have had to work with protesters to be able to reopen the state highway. But in my opinion it was absolutely unnecessary, and unacceptable to move in on peaceful protesters with violent, dangerous, unpredictable weapons such as tear gas. It was unnecessary to arrest these non-violent individuals and take them into custody. It is unacceptable that we had finished cleaning the confederate memorial, which had received some graffiti, before we had finished booking and releasing all of the individuals from jail.

During Sunday afternoon's protest the people of Athens proved that they deserve better than this. We must do better. Black Lives Matter.
I cannot speak for the entire Mayor & Commission but I personally support and advocate for the following to happen:
Dropping charges on the arrested peaceful protesters
Pass an enforceable Non-Discrimination Ordinance for Athens-Clarke County
Fund an additional Mental Health Co-responder team for ACCPD in this year's budget
Fund a study and plan for ACCPD to move 50% of its force in a tiered fashion to unarmed, community officers prioritizing social work skills such as resource connection, deescalation
For the sake of community safety, move the confederate memorial on Broad Street to storage until a safer, contextually proper location can be designated
In Solidarity,
Commissioner Tim Denson
EDIT: ACC Police Chief Cleveland Spruill released a memo on the situation containing a few elements that are not agreeable with my observations and knowledge. You can read that here.