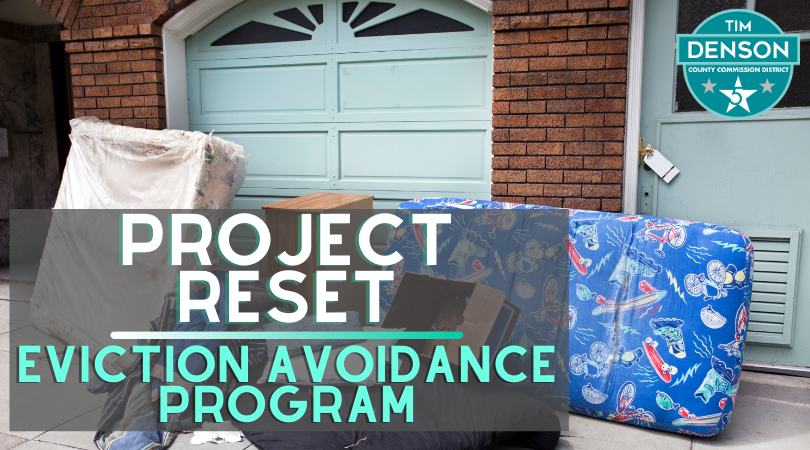 Commissioner Denson is pushing for the creation of an eviction avoidance program that will keep individuals facing eviction in their homes, helping to create a more stable financial foundation for them moving forward.
Being evicted from a home creates instability in every facet of a family's life. It can set a family's economic situation back years, make it harder to find a quality home in the future, create volatility in a child's education, make it difficult to keep employment, and so much more. These difficulties not only affect the members of that family but the entire community. It is in the best interest of all Athenians to find ways to keep people from being evicted from their homes.
Once families and individuals become homeless, it becomes very difficult and costly to get them back in a situation where they are housed and stable. The most effective way to combat homelessness is to keep people from ever becoming homeless. This is what Gwinnett County leaders, including County Commissioner Marlene Fosque and Chief Magistrate Kristina Hammer Blum, realized in the winter of 2020 when they decided to create Project Reset.
Using CARES Act funding, Project Reset in Gwinnett County made past-due rent payments directly to landlords in order to prevent imminent evictions and keep tenants stably housed. As of April 23, the program used $6 million to intervene in more than 1,300 potential evictions and is preparing to roll out Project Reset 2.0.
Commissioner Denson has been advocating to create a Project RESET program in Athens since January 2021 when he organized a meeting with Commissioner Fosque, Gwinnett County staff, and a group of local leaders in Athens. Commissioner Denson has continued to work with these individuals and have regular conversations with the Clarke County Magistrate Court and ACC staff on how to get it implemented as soon as possible.
Why do we need a program like Project Reset in Athens right now?
Project Reset would keep individuals facing eviction in their homes; helping to create a more stable financial foundation moving forward for individuals facing eviction; and helping curb the spread of COVID-19 by keeping people permanently housed.
I thought there was an eviction moratorium in place?
Currently there is a CDC eviction moratorium in place. This moratorium does not stop evictions though, it only delays them. It is likely that when the moratorium ends there will be an onslaught of evictions (like what is happening in Texas). Currently, the moratorium is slated to end on June 30, 2021. Also, evictions are still happening in Athens, though at a slower rate, since not everyone is able or knows how to apply for the moratorium.
How would a Project Reset program work in Athens?
Project RESET Athens would provide rental relief for eligible tenants, and settlement payments to eligible landlords, who are currently going through the eviction process. A reduced settlement of rent owed would be negotiated that benefits both the tenant and the landlord. The tenant would have their back rent paid and eviction dismissed, keeping them stably housed, and the landlord would receive a direct lump sum payment for back rent.
The program would potentially run like so:
A tenant is served a dispossessory notice (aka eviction notice) and instructed to give an answer to the notice at the Magistrate Court
Tenant and/or landlord is informed of Project RESET when they visit the court or via outreach efforts and invited to apply
Tenant or landlord applies for Project RESET
Applicable Project RESET housing service partner reaches out to other party (tenant or landlord) to complete application and submit documentation
Housing service partner will review application and documentation for eligibility
Once eligibility is confirmed, settlement offer is made to landlord to cure rental arrears
If accepted, payment is made directly to landlord and Magistrate Court will follow up on issuing Settlement/Dismissal Order
Landlord receives payments & Tenant is able to remain in their home, with their rental situation "reset" and fees dismissed, and is encouraged to take advantage of financial literacy supports
How can we pay for Project Reset in Athens?
In the long run, it is more costly for our community to not stop evictions. Evictions have a negative effect on our workforce, service providers, and education systems. We will have available funding to pay for it, over the next 2 years, with American Rescue Act funds and then can use a combination of grant funding, federal funding, and general funds to pay for it moving forward.
Are there examples of current successful programs like this?