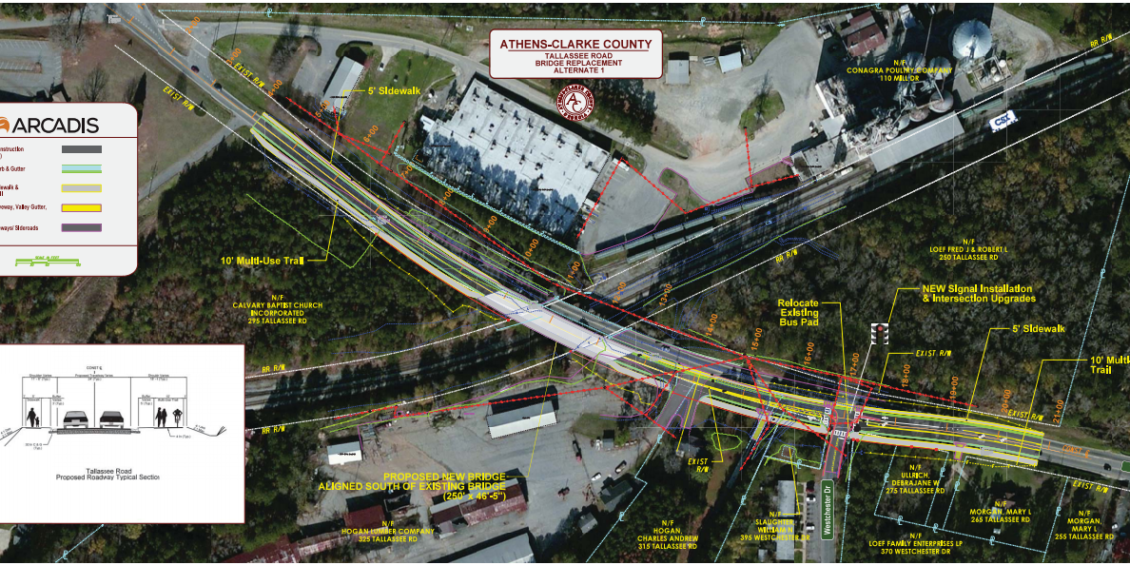 As part of the 2018 TSPLOST project list, the Tallassee Road Bridge will be replaced and built in a way suitable for automobile, cyclist, and pedestrian traffic. The project will likely begin in the fall of 2019 and be completed 18 months later, around 2020/2021.
A public ACC meeting was held on May 2, 3 possible concepts were offered:
Concept 1 places the replacement bridge to the south of the current bridge; it is the preferred option by ACC Staff (detailed info on Option 1)
Concept 2 would keep the bridge where it currently is. It would have considerable cost savings but the road would be closed and traffic would be redirected for 18 months.
Concept 3 would place the bridge to the north of the current bridge but would face a number of engineering challenges and have a higher cost than Option 1.
Here are the materials and information made available at the meeting:
Important information relayed at the meeting:
The cost estimate is for Alternative 1 which installs a new bridge just south of the existing alignment. This allows for construction to proceed without impeding traffic for the majority of the duration.
There is a relatively significant cost savings to demolishing the existing bridge and rebuilding in place. However, this is not something that we recommended as it would detour ≈14,000 vehicles daily, many through residential areas.
 We are including the multi-use path recommended in the Greenway Network Plan. The aerials don't show it, but we are connecting to the sidewalks installed with the Whitehead roundabout and existing sidewalk south of the project limits.
These concepts will be presented to the Mayor & Commission on Tuesday, May 8 (no public input). The item will likely be reviewed at the Mayor & Commission Agenda setting on May 15 (public input allowed) and possibly approved at the June 5 Voting Session (public input allowed).